Skip Navigation
Website Accessibility
Bernina Q16P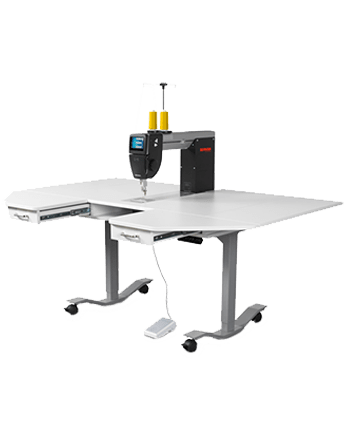 The BERNINA Q 16 (PLUS) is a longarm quilting machine.
Q 16 PLUS has a throat space of 16 inches
The machines can be paired with a standard or height-adjustable cabinet or with a foldable, height-adjustable table. The BERNINA Q 16 PLUS is compatible with the BERNINA Studio Frame if an upgrade to a Quilt Frame is desired
Hand-guided quilting made easy
Precise regulated stitches (in BSR mode)
Four different modes for full flexibility
Simple customization via touch screen
Thanks to the integrated BERNINA Longarm Stitch Regulator you achieve perfect stitches at equal-length no matter which speed you move the fabric. A manual mode with no stitch regulation is also available.
Unique user interface
Simple-to-navigate touch screen
Individual settings for full comfort
Built-in tutorials offer full assistance
Totally customizable, the user interface includes useful functions, such as five user profiles, a stitch counter, and built-in tutorials regarding maintenance.
Q 16 PLUS
Spacious 16" workspace
Cabinet and table options
Built-in BERNINA Stitch Regulator (BSR)
The BERNINA Q 16 PLUS has more throat space than your domestic machine, a spacious 16 inches. Pair them with a foldable, height-adjustable table and the machines meet and exceed all your small space, big quilting needs. Furthermore, the BERNINA Q 16 PLUS can be used as a frame model together with the BERNINA Studio Frame.