Skip Navigation
Website Accessibility
Judy Doenias

Judy Doenias came to quilting as a second career, after working for 26 years for the government. She learned to handpiece in 1987, and two years later, she started teaching. As a math lover, quilting appealed to her love of geometry. As an avid knitter and needle pointer, she was also attracted to colorful fabrics and the satisfaction of handwork. Her first quilt remains unfinished, but she discovered a new obsession.

Judy's work takes many forms. She has experimented with just about every technique, and her interests range from the most traditional topics like English Paper Piecing, Sashiko, and Dear Jane, to such contemporary topics as Colourwash, Tessellations and her own particular fascination, Quilt As You Go. Her innovations in this technique, in which the blocks are pieced on a foundation of batting and backing fabric, allow her to make more quilts in less time. Not content with basic patterns, Judy has gone on to adapt designs like Drunkard's Path, New York Beauty, and Inlaid Appliqué to Quilt As You Go. She puts her unique stamp onto easy designs like Log Cabin and Rail Fence, and her QAYG classes are always popular.

Her classes run the gamut from beginners (Basic Patchwork by Hand, and Hand Quilting) to advanced (Everyday Best, and the wildly popular University Log Cabin) as well as such novelty topics as Fabric Crochet, Locker Hooking and Toothbrush Rugs.

She is a member and past president of Empire Quilters, and a former member of Manhattan Quilters Guild. Her teaching credits include many guilds, conferences, including Quilting By The Lake and The Great American Quilt Festival, as well as at the American Folk Art Museum. In addition to quilting, Judy is also interested in Egyptology, astronomy, and opera. She has a warped fascination with Lizzie Borden and an unhealthy addiction to Sudoku. She lives in Forest Hills, Queens, with thirteen sewing machines, thousands of yards of fabric and two cats.


---

Ruth Cabble
Specialty: Garment Sewing
Ruth's Blog: Long Island Sewing Teacher

Like so many sewing enthusiasts Ruth Cabble grew up with a family of quilters and garment sewers. She was greatly influenced by clothing designer Bill Blass. By the time she was in 8th grade she was sewing all her own clothes, a tradition which she continues today. She knew she was destined to be a Home Economics teacher. Ruth graduated with a Bachelor of Science in Education. She majored with a dual concentration in Textiles and Nutrition. She also completed a Masters in Science plus an additional 80 postmaster credits. Ruth has taught every level of textile construction in the NYS public school system. This experience afforded her a methodical and detail-oriented approach to instruction.
Ruth has sewn everything from window treatments to bridal gowns. Lately, she has been producing photo wall quilts enhanced with computer embroidery. Every sewing project, pattern, fabric, and machine used has been recorded in a memory diary since the 1980s. (not that anyone is counting).
While teaching at school she always wore clothes she made to motivate her students. Those individuals who know her work tease her saying she can wear her clothes inside out because of the seam details. To that end, "Why settle for 'Ready-to-Wear' when you can create a custom? "
---
Diane Collier

Diane Collier
teaches teen sewing and on occasion, adult classes, too. A Sew Right customer of thirty-plus years and a retired teacher, she finally succumbed to Laurie's persistent cajoling to teach a class to teens during a school break a few years ago. That one time has since become a popular feature on the store's calendar, with many students returning several times. Diane is an avid needleworker who enjoys sharing her passion for garment sewing, machine quilting, and hand knitting with fellow enthusiasts of all ages.
---
Kenneth King

Flawless engineering and construction have always influenced King's design aesthetic. The engineering challenges involved in making a particular effect appear spontaneous have always fascinated him.
What's new in King's creative output? Click
here
to go to his new works page!
King's work is in the permanent collections of museums such as the Victoria and Albert Museum in London. He strives to stretch his couture craft in new and more intriguing directions. King's current body of work began with a reexamination of how clothing seams together in construction. These three "lines of inquiry" as he calls them are soufflé, leafing, and cutwork. (To see a video on King's work, click
here
)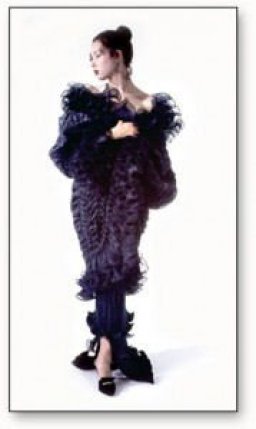 Soufflé,
inspired by origami folding techniques, is a combination of various fabric manipulation techniques. Read more
here
.
Leafing
is a method by which King creates "a fabric in the shape of a garment". Read more
here
.
Cutwork
is the mirror-image process to leafing. Read more
here
.
When developing this new body of work, King has worked with an eye towards creating designs that, though not mass-produced, could be made in limited editions.
King's move to New York matched his desire to form new techniques and designs, to make a complete departure from what he had done in the past. Most of his previous work involved many layers of fabric and innovative engineering to get certain effects. By choosing a transparent fabric, he had to create garments in which the construction, now completely on view, was as attractive as the design.
The research to develop this body of work took nearly three years of making what Kenneth calls "lab notes". This rigorous, evolving series of samples and notes finally yielded the techniques he sought. They also offer a rich library of ideas to draw from. The permutations are almost endless and will keep his work fresh for years to come.

This work satisfies Kenneth's desire to create proprietary techniques and designs. In the long view, his goal is to be the 21st Century's answer to Mariano Fortuny. King decided to focus more on private clients. A chance remark from one of his favorite clients turned him in a new direction. "One spends all this money on the dress," she asked, "what does one wear over it?" King had experimented with wraps in the past, but this client helped him understand the uses and types of wrap needed for the spectrum of events his customers attend. This started him on a new direction technically as well as aesthetically. King's relationship with Maxfield had lasted nine years. During and beyond that time his designs were carried at Wilkes Bashford, San Francisco, and Ultimo in San Francisco, Dallas, and Chicago.

During the time King spent selling to Maxfield, his work and reputation grew with museum curators and private collectors. His work is in the permanent collections of London's Victoria and Albert Museum, the L.A. County Museum of Art and San Francisco's DeYoung Museum, as well as many private collections. The Mermaid Gown shown above is in the permanent collection of the L.A. County Museum of Art.
It was during this time that King custom-designed many pieces for Elton John. Notable were the hats that appeared in music videos for songs such as "Sacrifice" (to view,
click here
), "Whispers" (to view,
click here
), and "You Gotta Love Someone" (to view,
click here
), as well as the red hat used in the Diet Coke commercial "Nightclub". (to view,
click here
)
King also expanded his line for the store from hats, clothing, jewelry, and accessories, to include home furnishings. He introduced his "Marble Jewelry" – necklaces and bracelets of clear glass marbles encircled with sterling silver. These designs, both in sterling and later in 18-Karat gold, continue as popular day-into-evening accessories in King's design repertoire.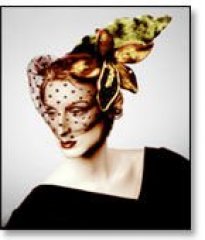 His hats were the first of his line of opulent, limited edition and one-off evening accessories and clothing.


To enhance the jewel-like nature of his pieces, he presented the designs in black velvet cases lined with black taffeta. Kenneth fully understood the importance of packaging and designed these cases to spotlight their allure. As these accessories were jewels, he felt it important to package them accordingly. This created an aura around the pieces that increased their allure.
After the first cocktail hats came matching hats and muffs, followed by fur boas with concealed pockets for compact and lipstick worked into the embellishment. Kenneth's exquisitely crafted vests and accessories found an avid clientele. The customers responded enthusiastically to his work and began requesting other types of pieces.
One of his early hits was the Vest. These vests featured sterling silver knot-buttons and matching sterling silver hardware of his own design, and were packaged in the signature black velvet boxes.
Vest collectors then demanded garments, which resulted in the Dinner Jacket. This jacket featured the same distinctive lapel shape and sterling button. A cummerbund, based on the vest, was also introduced at this time.



His furniture melds plush Victorian form with intricate trim and lush, vivid colors. These highly worked "epic pieces" are created as artistic statements with little mind for their commercial value. His "Footstool" appears in the book "Elton John's Flower Fantasies", by Carol Cass (Bulfinch Press, p.53)
In 1986 King began selling his creations to Maxfield in Los Angeles, where the store's Hollywood clientele discovered him. He was taken up first by Cloris Leachman; Elton John was also an early collector. Later such people as Don Johnson and Geena Davis also became collectors.

In 1985 he started his own business designing and making hats. This initial design experience made Kenneth focus on the wearer; his designs were created to fit the client's lifestyle. Kenneth realized that a hat can be total fantasy, but must also be wearable. He understood that the type of customer he was aiming at would not buy a second piece if the first didn't perform well.

King's designs are created so the wearer needn't fuss. The person wears the piece, not vice versa. King says, "The process should be so seamless as to be invisible. When a piece is flawlessly finished, one then has only to consider the aesthetics. The flawless finish shows that one is the master of his materials."